National Nursing Home Week ~ May 10-16, 2015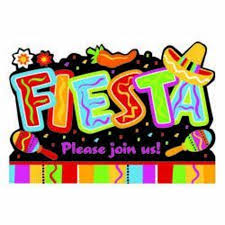 BRING ON THE FIESTA! 
This year's nursing home week theme will make us feel like we are south of the border with it's flavors and bright colors.  We want to extend a special invitation to all who have connections to Moundridge Manor to join us in celebrating the "Familia, Vida and Amor" or "Family, Life and Love" that binds us together!
Monday of nursing home week
On Monday afternoon at 1:30 the Sugar Creek Christian School children will treat us with their End-of-School program.  After the program everyone will receive a balloon and we will all go outside and release them at the same time!  The current forecast calls for a clear, blue sky and temps in the mid-60's so it should be a beautiful sight!!
Tuesday
For Tuesday we will be working on a Mexican craft project for our Open House on Wednesday.
Wednesday
The highlight of the week will be the Mexican Fiesta Open House on Wednesday afternoon in the Activity Room from 2:30 – 4:00 p.m.  We invite you to stop by for some South-of-the-Border refreshments and enjoy a little Spanish singing!
Thursday
On Thursday afternoon at 3:00 for our Life Enrichment activity we will be listening a guest speaker talk about life in Mexico.
Friday
To complete nursing home week the dietary department will be treating all residents and staff to a Mexican meal at noon on Friday.
Thank you to all residents, staff, family and the community for helping to make Moundridge Manor a 5-Star Nursing Home!!